Looking for a Robust Affordable ACD Solution for Cisco UCM?
VistaPoint ACD is very unique in that it allows agents to handle more than one call at a time. Most ACD platforms limit the number of calls an agent can actively have at any one time to just one. However, VistaPoint's ACD will allow agents to take additional calls from any source to include code calls, shared lines, other queues, and prioritize each as needed. That is why it is the perfect fit for operators who need to handle multiple calls from various sources during peak periods.
Designed for operator pools and call centers from 5 to 100 agents. VistaPoint's ACD Module is an affordable call queuing and routing solution for Cisco UC customers. When considering your options you will find that VistaPoint ACD fills the void between Cisco's Native Call Queuing and Cisco Contact Center Express (CCX).
Call Routing, Queuing, and Reporting in one Affordable Package
VistaPoint ACD resides on your VistaPoint Enterprise server and leverages your existing Cisco UCM and Unity Connection platforms to provide greetings, play prompts, and then intelligently distribute calls to available agents. When all agents are busy callers can be placed into queues pending the next available agent. For existing VistaPoint customers…you already own the hardware and software…The VistaPoint ACD Module maximizes that investment.
Major Benefits
The VistaPoint ACD Module is a software solution that is installed on the VistaPoint "Enterprise" Server. As such, it can take advantage all other "Enterprise" components and modules. These include High Availability (HA), Call Tracker, Call Assist, SMS Messaging, and much more. Included with the ACD Module is a web-based reporting for supervisors to view queue and agent statistics. Need custom reports? No problem…all call details are stored in an SQL data file so that 3rd-party reporting tools can also be used to extract the data and create custom reports.
Agent Greeting – automatically plays agent's greeting to callers reducing fatigue

Automatic call distribution to longest idle operator/agent

Automatic log out of agent if they do not answer a call from the queue

Agent can "Decline" a call
Automatically log out agents at a specific time of day/night
Make Busy with Reason Codes

Site Licensed – no need to purchase additional ACD licenses for new users

CTI Enabled to perform data dips and display caller's record (CRM)

Does not require custom scripting like other ACD packages

Quickly add/remove agents and queues

Redirect calls away from the queue on the fly

Up to 100 active "concurrent" agents and 100 call queues

Agents can log into multiple queues

Agents can Park and Retrieve from Park

Agents can handle multiple calls simultaneously from multiple queues

Respond to Code Calls even while on another call

Includes historical reporting package (queue, agent, extension statistics)

Includes Supervisor tools

Includes historical web-based reporting

Can be used to front-end CCX/E call centers

Very affordable alternative to UCCX
Included with the ACD Module is a web-based reporting tool for use by supervisors needing to view queue and agent statistics. Need custom reports? No problem…all call details are stored in an SQL data file so that 3rd-party reporting tools can also be used to extract the data and create custom reports.
Simple and easy to setup and administer – no scripting
Queue Statistics – Calls offered, abandoned, redirected and more
Queue Statistics by Called Number
Agent Statistics (Incoming) – Summary of each agent's received / redirected calls
Agent Statistics (Outgoing) – Summary of each agent's call activity
Extension Statistics – Call activity of all Cisco devices
Redirect Statistic – Call redirection
Agent Activity – Summary of each agent's processed calls by time interval
Agent Availability – Details on when and for how long an agent was working with call queues
Queue Activity – Summary of all calls in queue by time interval
Ad-Hoc Reporting to create custom reports using 3rd-party report generators
 

VistaPoint ACD Report Generator – Main Menu: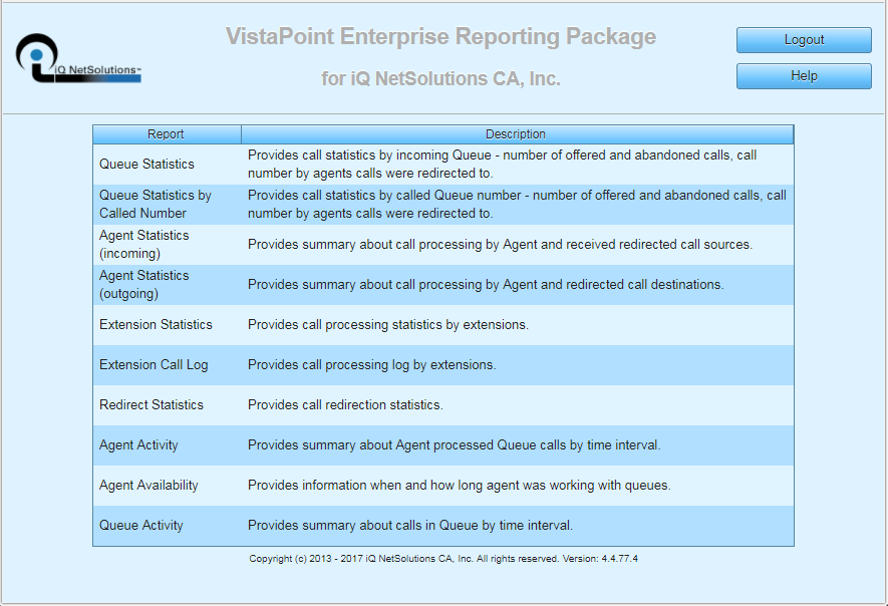 Click here to view ACD Reports Datasheet
Supervisor Tools – Agent and Queue Management
For VistaPoint ACD Supervisors, the ACD Module includes a number of features to assist with managing call center resources.
From their own VistaPoint Console, ACD Supervisors can:
View (real-time) agent state changes (busy, idle, etc.)
Silent Monitor Agent/Caller Interaction
Whisper Coaching – only Agent hears your comments
Barge – Take control of the call
View all calls in all queues (real-time)
Redirect any call from the queue to your phone
See connected party for each agent (CallerID/Name)
View direction of each agent's call (inbound/outbound)
Historical reports (queues, agents, extensions)
Calls are automatically parked (queued) for the next available agent. As agents become available these calls are instantly redirected to those agents. The Call Park DNs are configured in CallManager and you can define the MoH and reversion timers. When the reversions timer expires you can determine if the caller should continue to hear the MoH (loop) or be redirected to another number (phone, queue, call handler, etc.).
This is a Queued Call that is waiting for a Customer Support Agent:
Queued Calls Sample Report: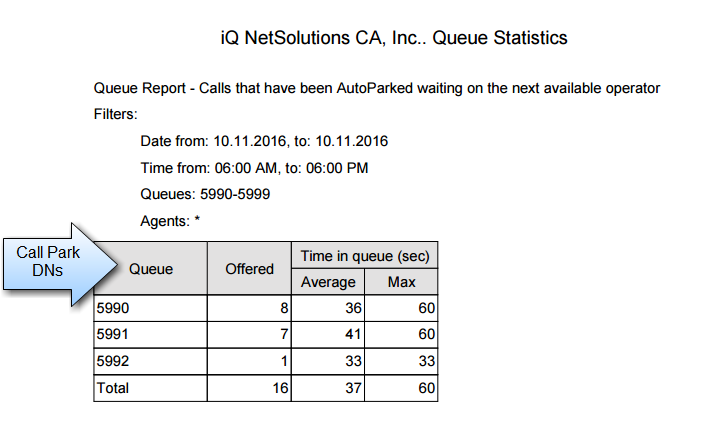 Click here to view ACD Reports Datasheet
Your operators/agents will make use of a VistaPoint Console to answer and process calls. This Console is a feature-rich application that provides a single interface from which to answer calls, view caller's record, locate requested party, and check their availability when handling calls.
Dynamic Call List – displays all active calls and all calls being offered to the queue
AutoPark Panel – displays all callers (by Caller ID and Name) waiting for an agent
Ability to handle multiple calls from multiple sources simultaneously
Real-Time BLF – see presence status of all devices (phone, Jabber, Lync, IPC)
Presence-based Phone Book – links to UCM, Active Directory, ODBC, CSV files
Operators can cherry-pick calls from the queue (even while on another call)
Built-in scripting tool can perform data dips to locate and display caller's record(s)
WebConsole operators can choose between their Cisco phone or Jabber
WebConsole includes WebView supporting add-on data collection modules
Setup Conference calls, Join calls, park and unpark calls etc.
VistaPoint Operator/Agent Console: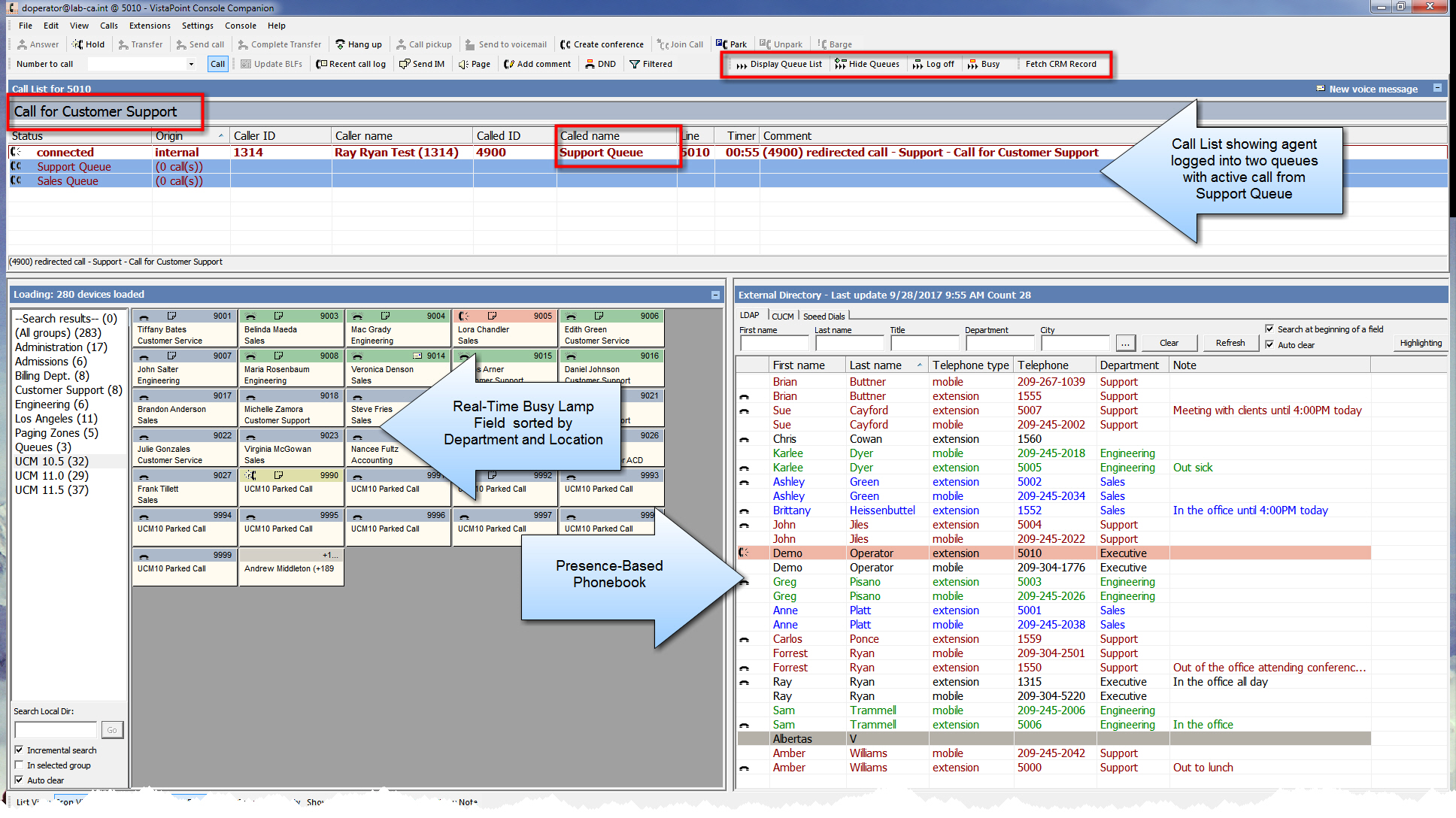 VistaPoint ACD Toolbar with Custom Button to Fetch Caller CRM Record:

WebConsole offers that "Single Pane of Glass" needed by agents to access all of your web-based services from within a single application. Designed to allow users to quickly move from one service to another answering and processing calls, locating information, accessing resources, collecting data, and communicate with others.  support multiple disparate panels, Your operators/agents can choose a client-based console or the browser-based console (WebConsole). Both are very similar in appearance with the WebConsole offering a few additional benefits.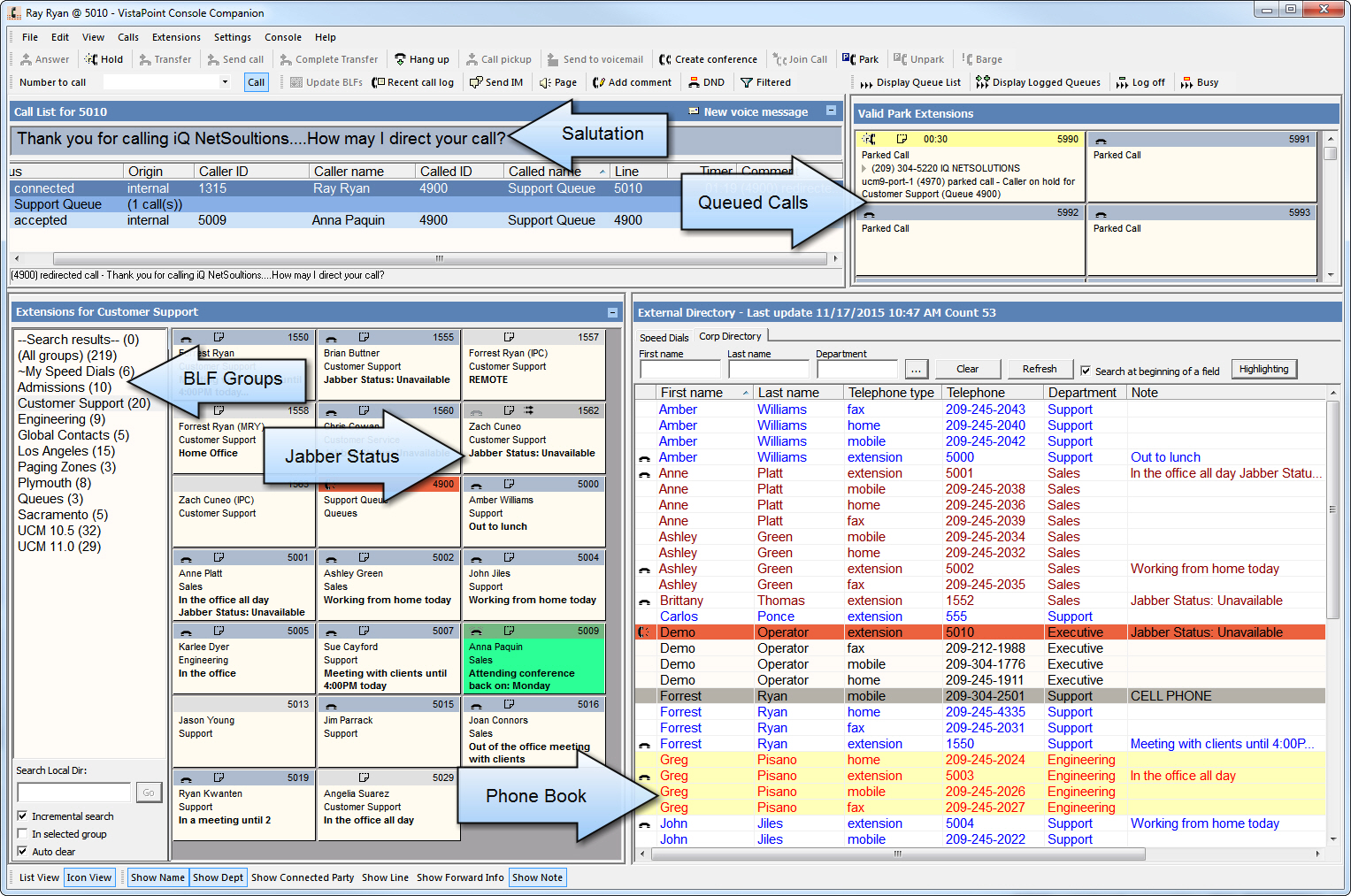 Are you looking to build a "Context Center" that exposes your operators to prior communications between callers and your organization? If so you should consider our Call Tracker module.
Call Tracker Module
Call Tracker is an add-on module that makes it easy for your operators to identify callers and collect data in real-time for each call being processed. A great tool for operators who need to track and account for each call.
Ready to get started with the VistaPoint?
Call 209-245-5500 x1103 or Contact Us
Want to learn more about the VistaPoint ACD module, including a full feature list and requirements? Visit the VistaPoint ACD Module Features page.