Looking for a Replacement Console for SPOK, IntelliDesk?
COVID-19 Notice: We wanted to assure everyone that VistaPoint Consoles were designed to be operated from any location to include the home. If you need to setup home-based operator positions, give us a call so that we can assists you. VistaPoint can be installed along side your existing consoles allowing users to safely work from home.
VistaPoint's portfolio includes modules designed to address the specific needs of our healthcare customers. These include a choice of consoles with a powerful Phonebook. The Phonebook supports multiple connections to AD, ODBC, CSV, CUCM, EPIC, MediTech, and FHIR HL7 compliant platforms.
If you are already pulling data from your EMR system and storing it in an SQL file, we can connect to it as well. We also offer Call Assist for handling code and stroke calls, Call Tracker for tracking every call your operators handle, ACD Module w/Reporting, SMS Module, Finesse Widgets for Console users logging into UCCX/E and an HA option for mission critical deployments.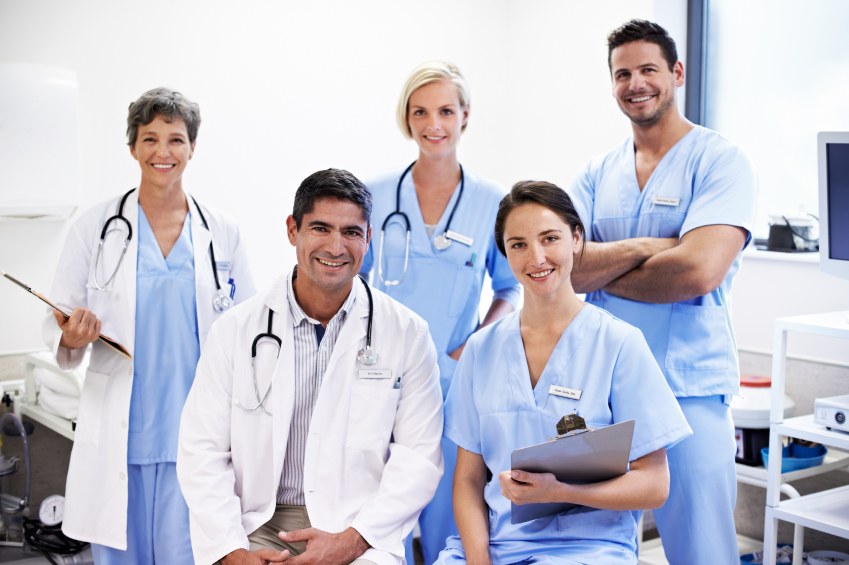 A Comprehensive "Affordable" Solution for Cisco UC Customers
Our healthcare customers have found VistaPoint to be an excellent alternative to the other operator consoles that currently serve the Healthcare Industry.  Call to schedule a review and demo to see how our solution will address your console needs.
VistaPoint "Enterprise"
Enterprise is our server-based solution that offers scalability and resiliency for mission-critical deployments. Enterprise offers a choice of operator consoles and many add-on modules allowing us to tailor the deployment to your organization's needs. These include High Availability (HA) server, Call Tracker, Call Assist, SMS Messaging, and much more.
Primary and Secondary Servers can share the same SQL database

Primary and Secondary Servers can be collocated or separate data centers

Server can support 8K+ "monitored" devices and up to five CUCM clusters

Phonebook can support 450K contacts from multiple sources

Two types of Consoles to choose from:

Windows-based Console installed on each operator's PC

WebConsole runs in a browser – no need to touch the desktop

Operator Greeting – automatically plays greeting to caller in operator's voice

Console can transfer caller to any phone number (internal or external)

Operators can process calls using their:

Keyboard (configurable)

Mouse – Drag and Drop 

Phone (even if application is off-line)

Or any combination of the above

Dynamic Call List:

Displays each caller's number and name

Can be color-coded to identify source of each call

Alerts operators to 9-1-1 and Code Calls

Handle multiple calls from multiple sources simultaneously

Park and page with auto recall after n seconds if not picked up

Parked call displays

Name and phone number of person parked

Name of operator that parked call

Name of person call is parked for

Timer with automatic revert to operator with above calling party information

Automatic pullback of RNA

Great for Patient phones that do not have call coverage

Reverts to operator after n seconds of RNA

Shows where the call is being reverted from  

Real-Time BLF – see status of all Cisco devices as well as Jabber, Skype, IPC)

Phonebook is used by operators to quickly locate individuals when processing calls

Locate Patients and transfer calls even if on a legacy PBX

Locate Clinicians and Providers

Locate Practice

Support for CUCM, AD, ODBC, FHIR HL7, HL7 2.x/3.x, and .csv)

Any combination of above sources can be used to locate groups of individuals

Optimized to support up to 450K contacts from any combination of above sources

Use "Join Call" when needing to connect patient with provider and then drop off

Consoles can perform data dips to locate and display caller's record(s)

WebConsole supports Cisco phone, Jabber, or IPC for audio/video calls

WebView, is used to access web-based services from within Console

Set up multi-party conference calls

Page via overhead speakers

Operators are notified when a call is placed to 9-1-1

Fully Integrated with InformaCast's paging and notification services 

SMS Messaging interface for ICM, TigerConnect and others

24/7 Hotline included with Software Support Agreement

"Lite" stand-alone console available for remote "autonomous" clinics
Windows-Based Operator Console
For additional specifications see: Console Companion Datasheet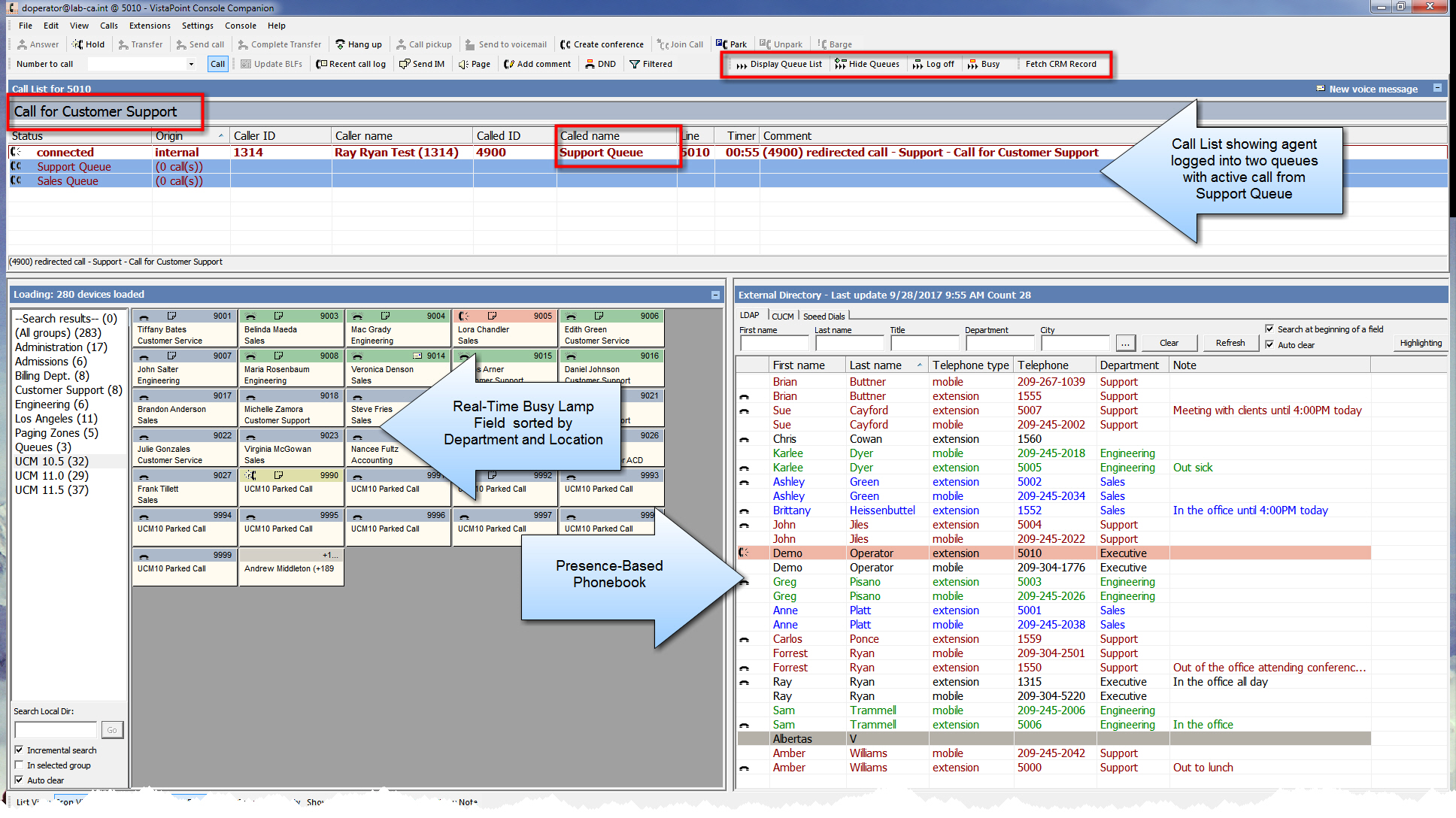 WebConsole
WebConsole offers that "Single Pane of Glass" needed by agents to access all of your web-based services from within a single application. Designed to allow users to quickly move from one service to another answering and processing calls, locating information, accessing resources, collecting data, and communicate with others.  support multiple disparate panels, Your operators/agents can choose a client-based console or the browser-based console (WebConsole). Both are very similar in appearance with the WebConsole offering a few additional benefits. For additional specifications See: WebConsole Datasheet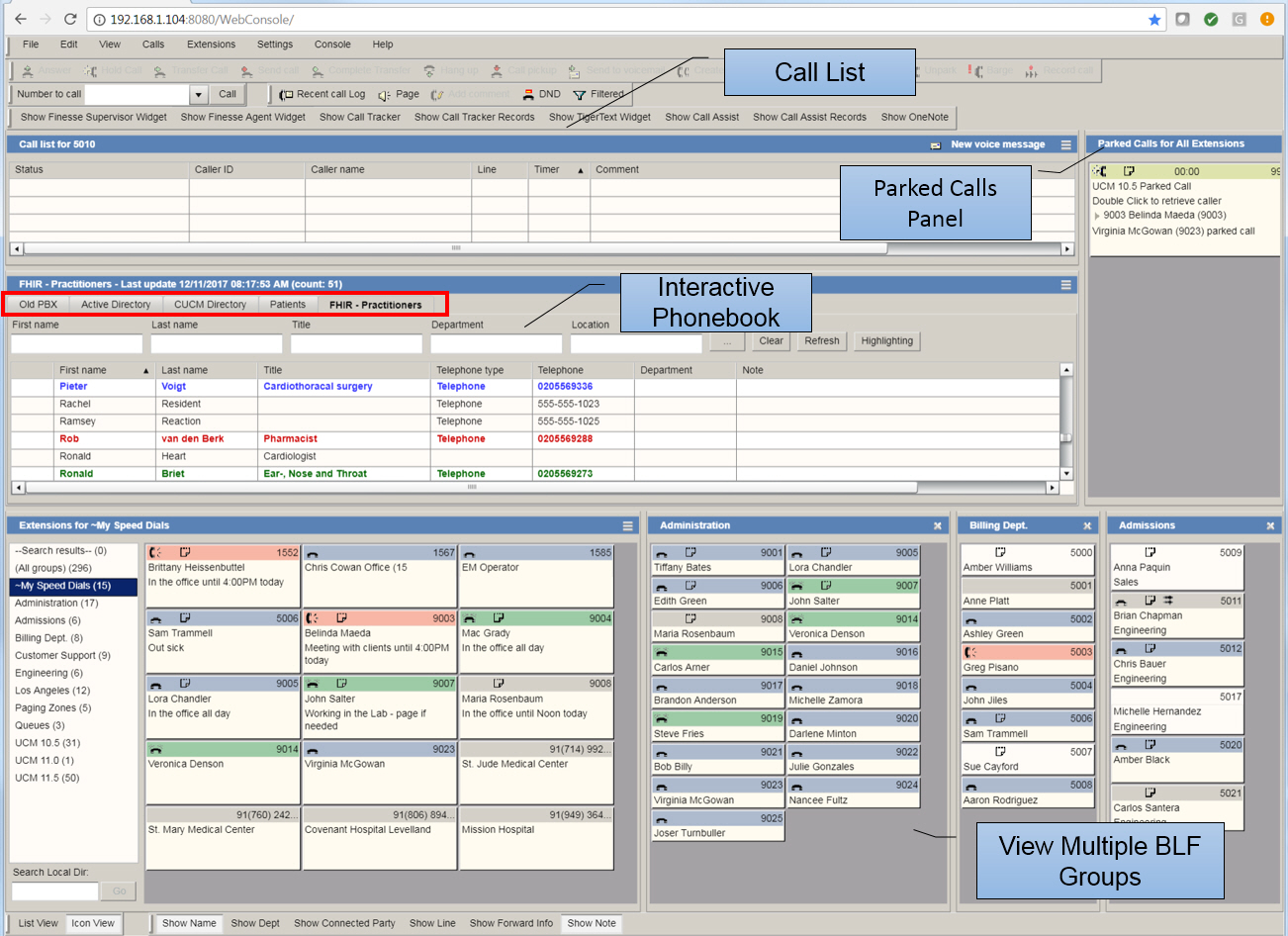 WebConsole with Call Assist Module for Code Calls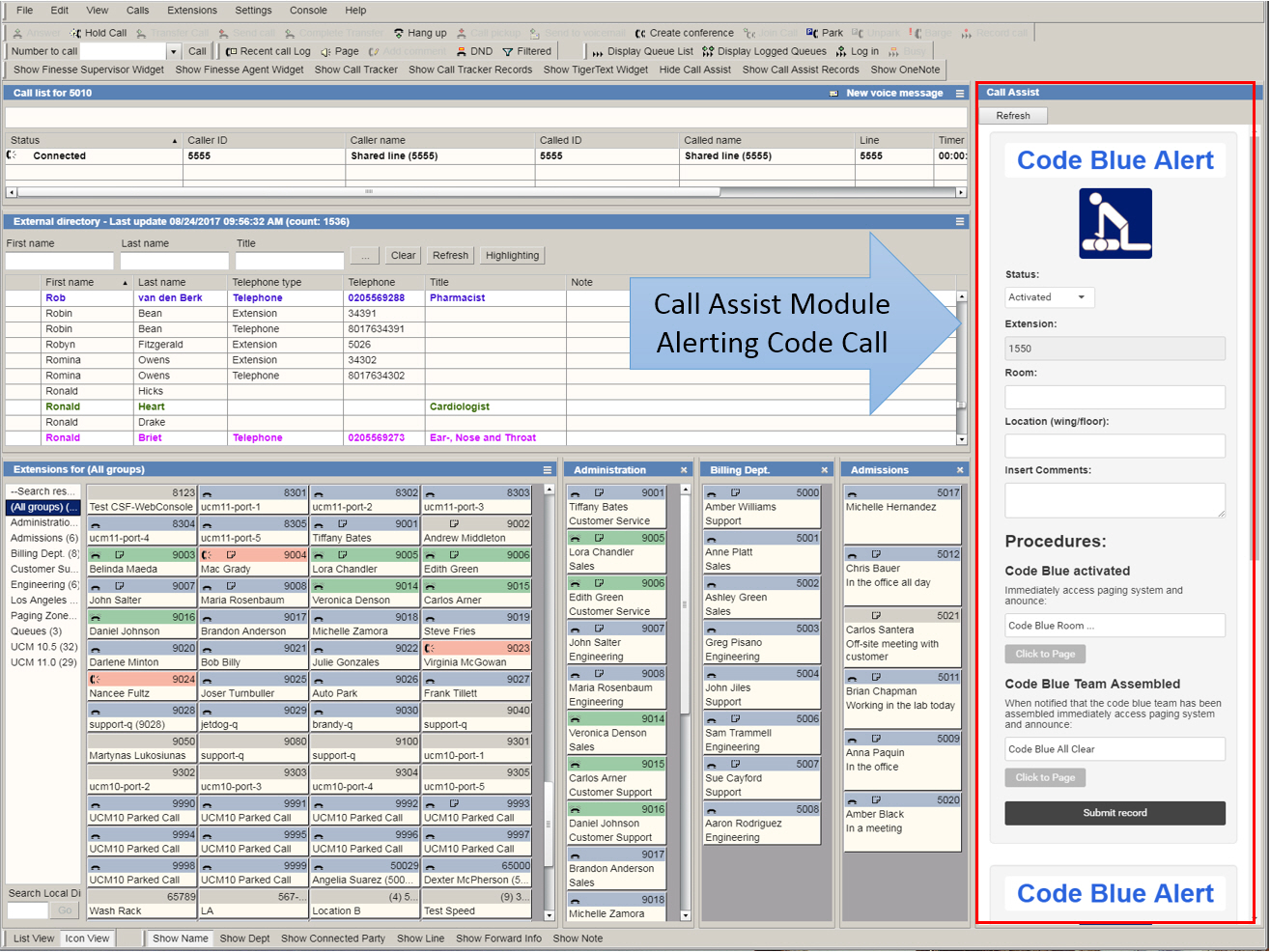 WebConsole w/Multiple Phonebook Panels
You can view multiple Phonebooks simultaneously each using a different connector, color scheme, search fields, and more.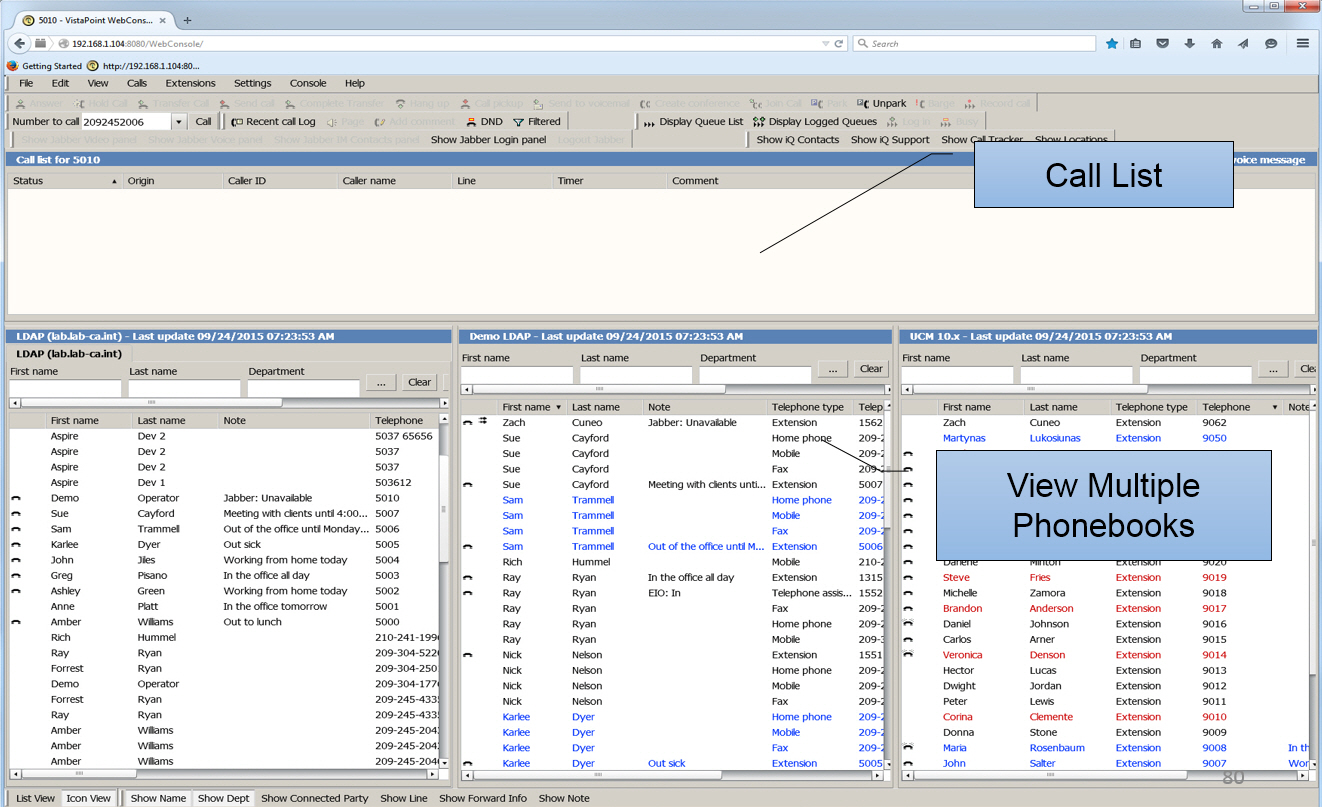 Phonebook Connected to AD showing Extension and Mobile Phone Attributes
This image depicts a multi-tabbed Phonebook with multiple search fields, phone status, status notes, and color coding based on the department field. Operators can quickly edit a person's Status Note by right-clicking on the contact.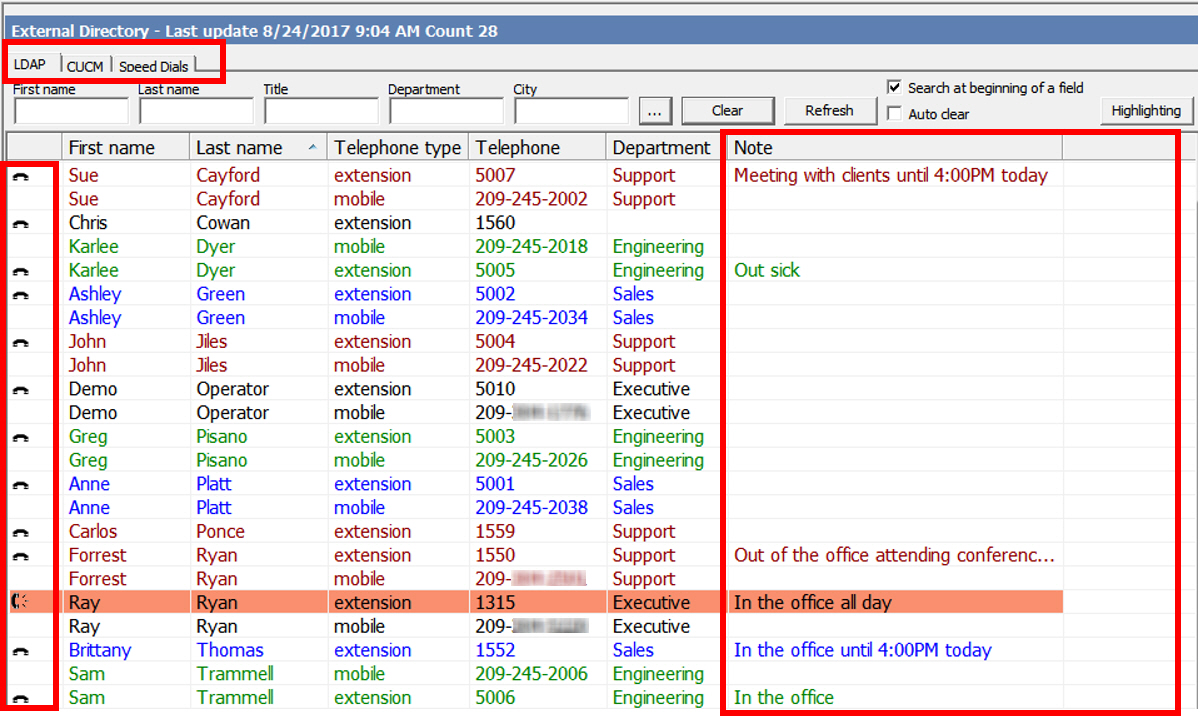 VistaPoint ACD Module w/Reporting
The optional VistaPoint ACD Module is a software solution that is installed on the VistaPoint "Enterprise" Server. As such, it can take advantage all other "Enterprise" components and modules. Included with the ACD Module is a web-based reporting for supervisors to view queue and agent statistics. Need custom reports? No problem…all call details are stored in an SQL data file so that 3rd-party reporting tools can also be used to extract the data and create custom reports.
Agent Greeting – automatically plays operator/agent greeting to callers reducing fatigue

Automatic call distribution to longest idle operator/agent

Automatic log out of agent if they do not answer a call from the queue

Site Licensed – no need to purchase additional ACD licenses for new users

CTI Enabled to perform data dips and display caller's record (CRM)

Does not require custom scripting like other ACD packages

Quickly add/remove agents and queues

Redirect calls away from the queue on the fly

Up to 100 active "concurrent" agents and 100 call queues

Supports up to 100 Call Queues

Agents can log into multiple queues

Agents can handle multiple calls simultaneously from multiple queues

Agents can process Code Calls while logged into their queue(s)

Includes historical reporting package (queue, agent, extension statistics)

Includes Supervisor tools include:

Silent Monitoring

Whisper Coaching

Barge

Web-based Reporting

Ad hoc Reports

Can be used to front-end UCCX/E call centers

Very affordable alternative to UCCX
For more details on this module see: ACD Module
Finesse Widgets
We offer Finesse Widgets for customers who have deployed UCCX/E and need their operators/agents to log in and out of their queue(s) while having access to call processing features as described above.
Click here to to view details of  Finesse Widgets
Call Tracker Module
Are you looking to collect data on every call build that your operators handle? If so Call Tracker may be the perfect solution collecting date, time,  CallerID, Caller Name, and the name of the operator taking the call.  The form can be fully customized to to allow your operators to identify the type of call, disposition of the call, and comments. Operators are also presented with the caller's history is Call Tracker has captured data from them in the past. allowing staff to see who last communicated with the caller.
Click here to to view details of  Call Tracker
Call Assist Module
Call Assist is add-on module that makes it easy for your operators to identify callers and collect data in real-time for each call being processed. A great tool for operators who need to track and account for each call.
Ready to get started with the VistaPoint?
Call 209-245-5500 x1103 or Contact Us
Want to learn more about VistaPoint's Healthcare solutions? Download the datasheet here: Healthcare Datasheet.